WHOIS History Search Web Tool Tutorial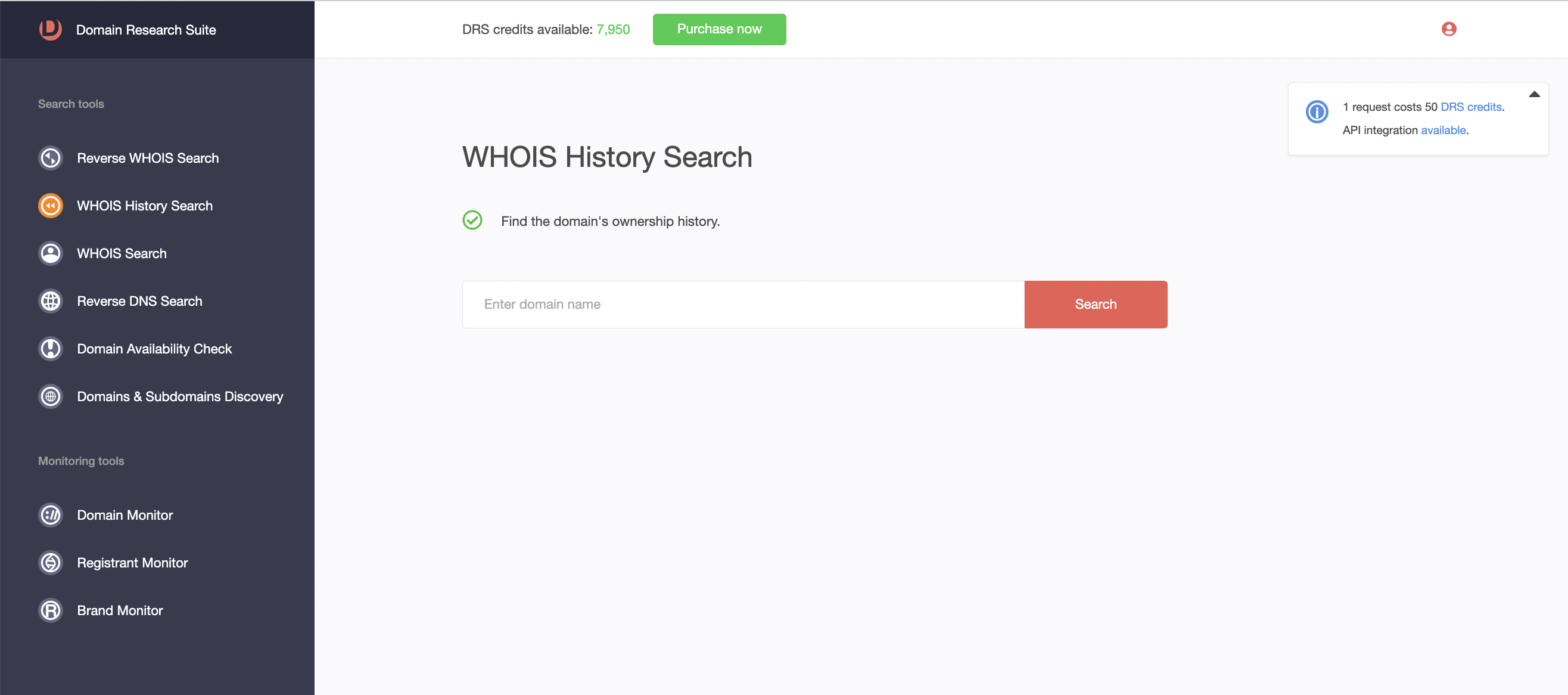 WHOIS History Search allows you to view the ownership history of a domain. Here's a tutorial on using the tool.
1. Retrieving WHOIS Ownership History
Type the domain name you want to look up into the search field and click Search.
You will then see the following:
Option to download: Click Download PDF to save a copy of the historical WHOIS records in your device.
Website screenshot: Here, you will see the live web page the domain hosts, if any. You can click the eye icon to see the full page or download the screenshot by clicking the download icon.
Website contacts: In this part, you can see the meta title, meta description, social media profile links, email address, and other contact information published on the website.
Website categories: The web categories relevant to the domain's content, meta description and title, and other details are found here.
Summary of historical WHOIS records: You can see a snapshot of the domain's history, telling you how long we have been tracking the domain, how many historical records we've found, and how many different registrars and registrants were associated with it throughout time.
WHOIS records arranged in descending order: The records are arranged in descending order by default. If you want to view them in chronological order, click the arrow down button beside Record(s) by date.
WHOIS details relevant to the specified dates: Click a specific date to view all the available WHOIS records of the domain during that period. You will see the following WHOIS data:

Domain age
Registrar name
WHOIS server
Nameservers
Domain status codes
Registrant contact details
Administrative contact details
Billing contact details
Technical contact details
Stripped text
Raw text
To learn more about each WHOIS record, visit this tutorial.
2. Analyzing WHOIS History
WHOIS History Search allows you to study the changes to a domain's ownership over the years through the Compare with feature.
By default, the WHOIS record you open will automatically be compared with the previous record. The modified fields are highlighted in orange.
Hover over the changed field to see its past value.
You can select another date to compare a particular WHOIS record from the Compare with dropdown box.
3. Pivoting Off Historical WHOIS Data
For most WHOIS data points, you will see an orange arrow (>) that allows you to pivot off that particular information and use it as a search string for other DRS tools. For registrant contact details, you can copy the data to the clipboard, build a current or historical Reverse WHOIS report, and add the data to Registrant Monitor or Brand Monitor.
a) Uncovering Connected Domains through Historical WHOIS Records
Clicking Build current Reverse WHOIS report retrieves a list of domain names currently registered using the specific WHOIS data point. In our example, we pivoted off a registrant email address and found 10,000 related domains, displayed in 30s per page.
On the other hand, Build Historic Reverse WHOIS Report tells the tool to search for the specific WHOIS data point in the historical WHOIS records of any domain.
The domains from both reports can be downloaded in CSV format by clicking Export CSV.
b) Monitoring the Activities of Previous Domain Owners
Two other options that appear when you click the arrow (>) are Add to Registrant Monitor and Add to Brand Monitor.
Add to Registrant Monitor sends the registrant contract details to Registrant Monitor, which will track domain registrations, renewals, updates, and expirations involving the registrant.
Add to Brand Monitor converts the WHOIS data into a search term and checks for its presence in the WHOIS records of newly added and just expired domains. Active monitors are accessible via the Brand Monitor tool.
Ready to explore WHOIS History Search on your own? You can access it and other DRS tools here.